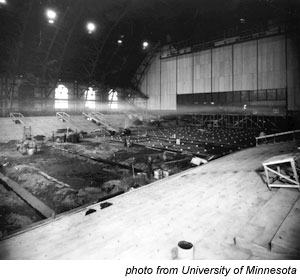 For 43 years "The Barn" was home to the Golden Gopher hockey team.
In 1928, "The Barn" opened it's doors as the Field House. At that time, the Field House was the new home for the Gopher basketball team. Over the years the non basketball side of the facility was used as an indoor practice field for the Gopher football and baseball teams as well as other sports.
In 1949, the Field House was remodeled and in 1950 became the home of both the Gopher basketball and Gopher hockey teams. The cost of the remodel was $1,032,867.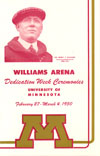 Initial seating capacity of the arena was 6,858. Upper deck seating was added at a later date. The dimensions of the ice sheet were 85 feet by 200 feet.
In March of 1950, the Field House was renamed in honor of Dr. Henry L. Williams. Dr. Williams was coach of the Gopher football team from 1900 to 1921. Click on the program cover to find out more about the dedication ceremony.
With the remodel and creation of the hockey arena, the Gopher hockey team finally had their first ice arena on campus
On February 17, 1950, before a crowd of 3,774, the University of Minnesota Gopher hockey team played their first game in their new home. The opponent was Michigan State and the Gophers won the game 12-1.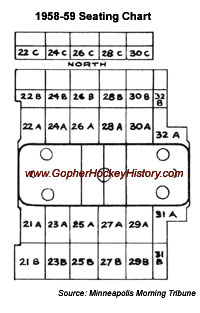 So began a new era of Gopher hockey.
In 1958 Williams Arena was host to the NCAA National Championship tournament. This was the first time the tournament was played outside of Colorado Springs, Colorado.
There were many unique features of the arena.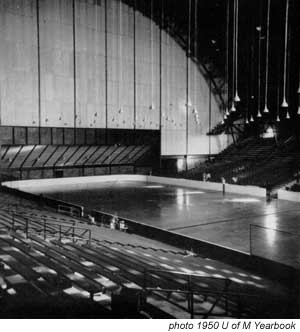 Some of these features can be seen on other pages on this site.
On February 27th and 28th in 1970, the Gophers played Wisconsin twice in front of 17,633 fans. This was the largest two game series in the history of "The Barn". The Gophers won the first game 4-1 and lost the second game 0-2.
On March 2, 1985 the hockey side of Williams Arena was offiically renamed Mariucci Arena in honor of former Gopher hockey player and coach John Mariucci. March 2nd was also declared John Mariucci day in Minnesota.
On March 13, 1993 the final hockey game was played in Mariucci Arena. In a WCHA league playoff game, the Gophers beat North Dakota 5-4 in OT before a crowd of 7,449.
Please check out the four videos of the old Mariucci arena that I took during the final 1993 hockey season.