The MacNaughton Cup is awarded annually to the regular season Champion of the Western Collegiate Hockey Association (WCHA).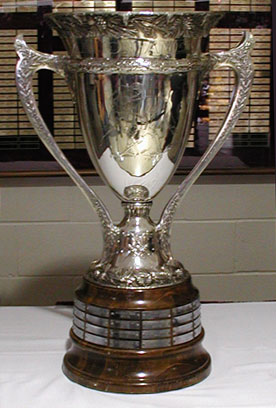 The Cup, is hand crafted of pure silver and stands nearly three-feet high and weighs some 40 pounds. It has the words "American Amateur Hockey Association" inscribed near the top of the cup above the handles. Etched into the front center of the cup are two hockey players. The Cup has pine cones, pine needles and icicles around the top rim and base. The front base has crossed hockey sticks and skate blades. The back base bares the name "James MacNaughton Trophy".
When the Gophers were members of the WCHA they were the regular season Champion 14 times (1953, 1954, 1970, 1975, 1981, 1983, 1988, 1989, 1992, 1997 (c), 2006, 2007, 2012 and 2013 (c)) and won the MacNaughton Cup 13 times. In 1983 the MacNaughton Cup was not part of the WCHA, see the write up below for more explanation.
MacNaughton Cup History
James MacNaughton was President of the Calumet and Hecla Mining Company of Calumet, Michigan. MacNaughton, an avid supporter of amateur ice hockey, in 1913 authorized the President of the American Hockey Association to purchase a cup to be awarded to the Associations Champion at the end of the season.

The MacNaughton Cup remained with the American Hockey Association until 1932. From 1933 to 1950, the Cup was fought for by semi-pro and intermediate hockey aggregations in Michigan's Copper Country.
For more information on past winners of the MacNaughton Cup or Michigan's Copper Country hockey, please check out Copper Country Hockey History.